Online games
This page contains games which Ultra Force Development participated in the development of and which are still available online. To get a list of all projects go to the all projects page.
Games developed as projects
Other games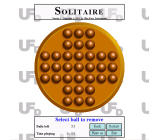 author
Josha Munnik
technologies
(D)HTML, Flash, Javascript
show
description
The well known game (tested with Internet Explorer 6 and Firefox 0.9), the game was a result from an experiment with DHTML.
The graphics are made with Flash.