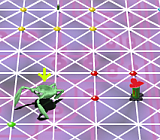 type of project
Web app / web game / website
customer
PTS
hired by
Crashmasters
design
Crashmasters
technologies
(D)HTML, Delphi/Pascal, Flash, MS SQL Server
description
PeTS is a multiplayer game using Flash for frontend and a server developed in Delphi. The player owns a pet which it can influence by adjusting certain parameters.
Next to a pet a player also owns a piece of the virtual world, where the player can change paths and plant seeds.
The goal is to accomplish certain tasks and to reach the gold pet level. This can be done be changing the parameters correctly and updating the area the player owns.
The world contains pets from other players, monsters, flowers the pet can eat from and seeds the pet can collect.