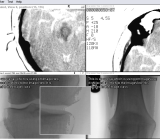 type of project
Windows app
customer
Konica Europe
technologies
C++
description
The design and implementation of several modules to support a new version of a medical application for Windows NT 4.0. These modules included:
An image library to support image formats which Windows NT can not handle itself (for example a 16-bit grayscaled image).
The design of an uniform COM-interface for several frame grabbers and the implementation of this interface for those frame grabbers.
A class library to support the file formats defined by the DICOM standard.